Why is it worth working with us?
We are a modern company full of energy and new ideas.
We are looking for people full of passion and committed to the development of the company.
We believe that employees are one of the most valuable resources and it is thanks to our qualified staff that we create innovative products.
Group insurance combined with medical care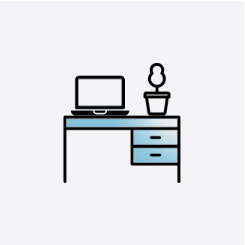 Comfortable working conditions
Check the current recruitment processes and send your CV and we will contact you if there is a position that matches your competences and interests.
Aktualnie nie prowadzimy rekrutacji.
Wymagania:
wykształcenie wyższe (inżynier elektryk)
bardzo dobra znajomość oprogramowania MS Office i AutoCAD
znajomość języka angielskiego
prawo jazdy kategorii B
uprawnienia SEP do 1kVA
samodzielność i wysoki stopień komunikatywności
wysoki poziom zdolności organizacyjnych
   Obowiązki:
przeprowadzanie wizji lokalnych, przygotowywanie rozwiązań technicznych i sporządzanie kalkulacji
przygotowywanie projektów i dokumentacji technicznej
przygotowywanie ofert i prowadzenie negocjacji z klientami
współpraca z podwykonawcami i nadzór nad realizacją
sprawdzanie poprawności wykonania instalacji elektrycznych i ich uruchamianie
prowadzenie serwisu urządzeń energetycznych
   Oferujemy:
umowę o pracę, pełny etat
stanowisko pracy z perspektywą rozwoju zawodowego
przyjazną atmosferę pracy
   CV należy przesyłać na adres e-mail: sekretariat@westerberg.pl
Apply
If you have not found a job offer for yourself, you can send us your CV directly to our database.
Remember to include the following clause in your CV:
"I consent to the processing by Westerberg Sp. z o.o. my personal data necessary for this recruitment and for the purposes of future recruitment, in accordance with art. 23 of the Personal Data Protection Act of August 29, 1997 as well as in accordance with Art. 6 of the Regulation of the European Parliament and of the Council (EU) 2016/679 of April 27, 2016 on the protection of individuals with regard to the processing of personal data and in on the free movement of such data and repealing Directive 95/46 / EC (General Data Protection Regulation). ").
We are waiting for you!